Manage Vendors Like Your Own Workforce
Service vendors are an important part of your workforce, but it is challenging working with them when it comes to efficient work request assignment and scheduling, awareness of on-site presence, work status updates, and the integration of complex task details into your EAM. The tools for managing an extended workforce just haven't been there.
That's why we created EZMaxVendor. EZMaxVendor enables your organization to manage service vendors like an extension of your own workforce.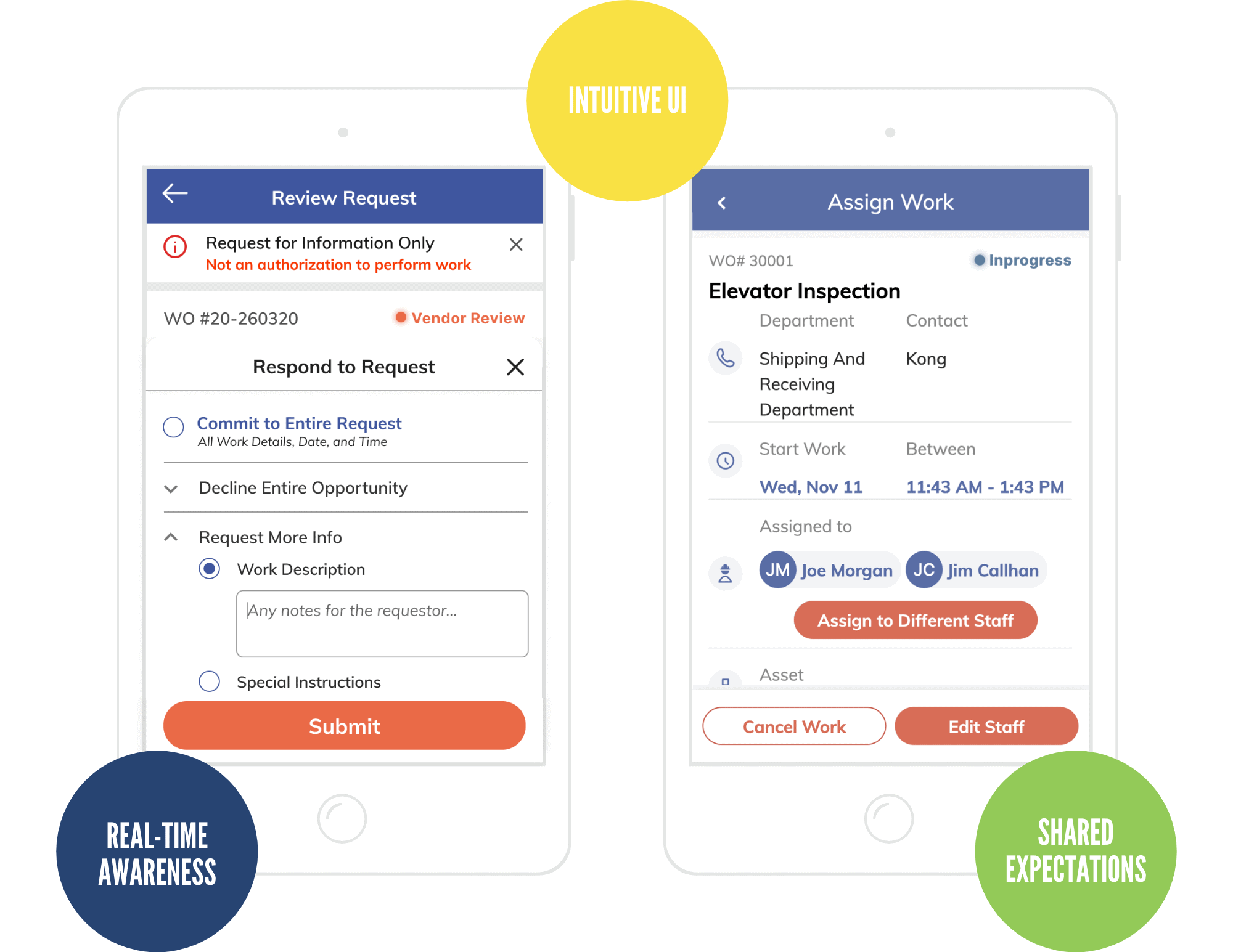 How EZMaxVendor Works
Initiate Request: Work requests are initiated directly from EZMaxMobile, EZMaxPlanner, or native Maximo, alerting the selected vendor with real-time push notifications to review the work request details, including the date and requested time of arrival on site.
Accept Request: Using EZMaxVendor, the vendor can then choose to accept, reject, or request additional details about the task, including proposing alternative dates or times, or even a modified work scope. This information flows back and forth in real-time until the parties reach agreement on all critical terms, eliminating time-consuming and error prone phone calls and email exchanges.
Assign Authorized Work: Authorized work is then assigned by the vendor to a technician(s) from within EZMaxVendor, in accordance with the agreed upon schedule. Once assigned, the vendor's technicians are alerted and the job is automatically added to their Technician Work Calendar, along with critical instructions and mapped location details. Assignment details are also added to the Client Calendar so that specifics about who is arriving (and when) can be easily viewed and shared across the organization.
Technician Arrives: Upon arrival, technicians use the app to scan a barcode, NFC tag, or initiate an update to notify the client of their arrival and ongoing work status. Accordingly, the client always knows whenever vendors are on-site, where they are, and precisely what they are doing at all times.
Request is Updated in EAM: At the completion of the job, all details, including any messages between technicians, along with supporting documentation such as marked up photos, videos, or reports, are submitted through the app and integrated automatically (and securely) into the organization's Maximo/EAM system, with no secondary data entry or delay.
Configurable KPIs: Finally, a configurable dashboard of Key Performance Indicators (KPIs) is available to measure and compare vendor performance against SLAs or other established metrics. Importantly, vendors can see their KPI results and client-established performance standards, so everyone knows the score at all times.
See EZMaxVendor in action: