The concept of "quick reporting" is good for some, but in order to create a true knowledge base a lot more information is required (i.e. for reliability centered maintenance).
Given: a work order exists. And a short description describing the problem is entered. Actual man-hours (and who did the job) are also entered. And, status = COMP.
The attached picture however shows several other areas to consider as to ideal work order completion/update, plus, how/where this might be stored. This type of feedback helps to "close the loop" and provides value-add input to your reliability team.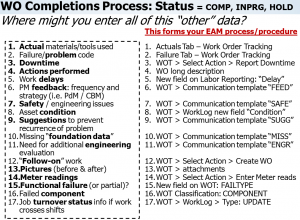 I welcome any additional thoughts as to what data you collect.