EZRequest creates a simple, effective communication channel between your team and your entire customer community. Now people who do not have regular access to Maximo can log maintenance requests, track the progress of a job, or book an event space online. Your team can get to work without fielding a constant stream of phone calls or re-entering information into Maximo.
Extend customer access to Maximo without adding licenses
Not everyone needs full access to Maximo, but now every member of your community can directly enter information into the system and track jobs, saving you both time and money.
Centralize maintenance data
Now customer requests and customer-generated backup documents are all logged online without requiring time and effort from your team. You have both instant access and a central repository for customer requests and data.
Automate your entire event booking process
With a bit of customization, event booking can be seamless with EZRequest. The system ensures that information is complete by requiring that all mandatory fields be populated before an order is submitted. Seating charts, drawings, photos, lists, and other customer documents can also be attached directly to an order.
Give users exactly the visibility they need
Community members can track the progress of their requests, while you can limit their access to job details, accounting information, and internal backup documents. Users can retrieve information based on criteria you choose, including order status, location, etc.
Configure EZRequest to meet your specific requirements
It's easy to design EZRequest around your organization's login and permissions protocols. You can also add features and custom fields so the system is truly your own.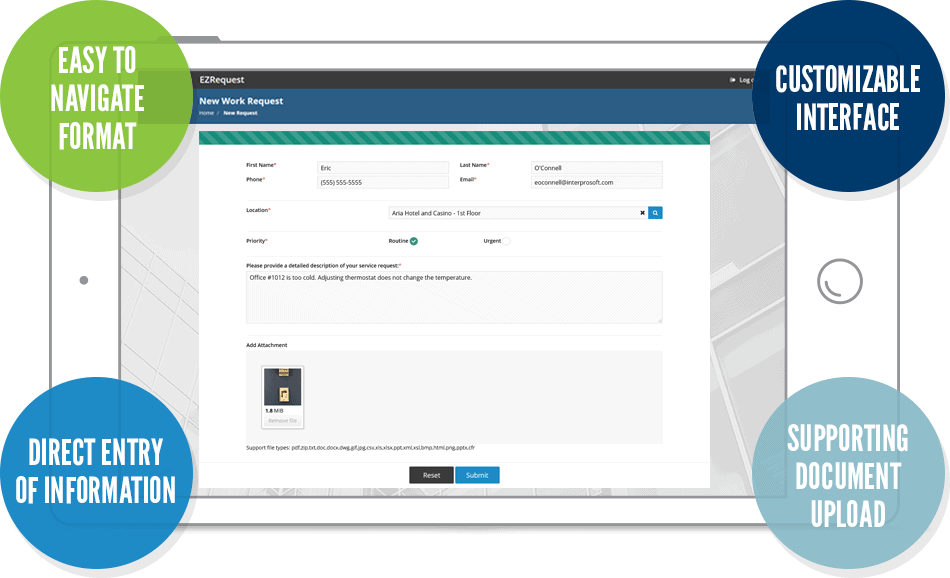 See how you can extend Maximo to your entire community