A URL can be added to the Start Center header area. The steps to accomplish this are as follows:
Add a new header (cloned from the selfServicePageHeader) to library.xml.
Create a new header by copying and pasting the selfServicePageHeader within MAXIMO_HOME/resources/presentations/system/library.xml. Change the new header's id. In this example, the cloned header id has been changed to "scheader".
Next, add a hyperlink element to the new header. Create a new hyperlink element which points to the target URL. The target must be a full URL. The hyperlink should appear before the performancelink tag. The element will look like this:
<hyperlink id="self_ibm" label="IBM HomePage" mxevent="loadlink" classname="powerwhite" targetid="self_pageTitlebar" link="http://ibm.com" image="information.gif"/>
It will appear within the header as follows:

The tag classname="powerwhite" is needed. Powerwhite is a class in MAXIMO_HOME/applications/maximo/maximouiweb/webmodule/webclient/css/maximo.css and it defines the style for the title bar elements.
An image is also needed for proper positioning within the title bar. Save the changes to library.xml, and import it through Application Designer.
Next, edit the Start Center presentation. In the presentation MAXIMO_HOME/resources/presentations/startcntr.xml change the header reference from selfServicePageHeader to the new header id.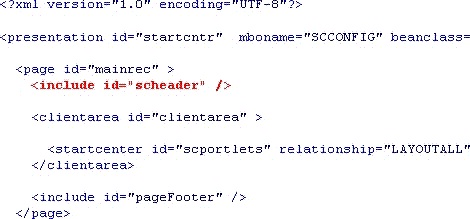 Save the changes to startcntr.xml, and import it through Application Designer. Log out. When you log back in, the link should appear in the Start Center.
Source: Maximo Developer Guide by IBM Support