IBM Pulse 2012 is only a few weeks away so if you are attending, don't forget to visit our booth E115.  Come take a look at our newest features that we have added to our already best in class mobile solution for Maximo.  If you are seriously looking to go mobile this year (and this is the year to do it), then don't forget to join a session from one of our clients, who will be speaking about how they transitioned from Syclo to EZMaxMobile.
EZMaxMobile Features
Work Order Management
View Job Tasks and Safety Plans
Inventory Tracking
Issues and Transfers
Physical Counts
Asset auditing (including classifications)
Purchase Requisitions and Purchase Orders
Meter Readings, Inspections and Routes
Easily Generate Follow-up Work Orders
Capture Electronic Signatures
View Start Centers
Assignment Manager
Built-in Bar Code Scanning
Automatic picture upload associated with a work order, asset or location
GPS enabled for work orders, locations, assets
View linked documents (attachments)
Works with Smart Devices, PCs, Laptops, Tablets and Ruggedized devices
Seamless transition from on-line to offline mode
Offline mode easily handles thousands of recs
Very simple synchronization process
Adheres to all Maximo security, business rules and work flows
Maximo mobile with Real Time, Anytime Maximo Access via Smartphone Browser
WiFi, 3G, 4G or VPN connectivity
Remote Operation
iPhone, iPad, iPod Touch, Android, BlackBerry, Windows Phone 7, etc. compatible
Maximo versions 6x and 7x are supported
Capabilities
Record GPS coordinates
Photo upload from iPhone, iPod Touch, Android, and Blackberry devices
Scan barcodes from iPhone, iPod Touch and Android devices
Full disconnected mode, work remotely offline
And much more…
Process Improvements
Access to unlimited (all) work orders
Ability to remotely approve/assign work orders
Real time updates and creation of work orders
Real time work order status changes
Real time material issues
Real time inventory counts (physical counts)
Real time receiving transactions
Significant Cost Savings:
Lower mobile device costs but greater flexibility
Eliminate mobile device setups and configurations
Eradicate synchronization issues and troubleshooting costs
Reduce Maximo work order administration costs
Substantially reduce or even eliminate work order printouts
Easy setup and Configuration
No client application installation required on the mobile device
No mobile hardware server required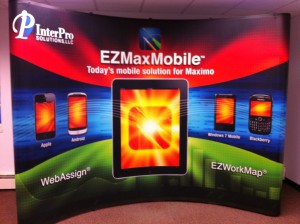 Come visit our booth at E115!