An iframe control can be useful in many ways to add extra functionality to your existing Maximo implementation.  You can use this method to host our EZDash solution.  This little tip on how to create an iframe control in Maximo doesn't involve any custom java code to be written.  It's actually quite easy to create and it uses an existing control.
First go to the Application Designer, find the application you want to modify.  Let's say the Workorder module, so open up WOTRACK.  To keep things simple, lets add a new tab that will contain our iframe control.  Open up the Control Palette dialog and click and drag a new Tab control and add it to the end of the existing Tab Group, right next to Specifications.  Now that you've added it, click on the tab to select it.  It should now be empty, so we can now add a new Section control.  Click and drag it to the appropriate area.  Once you've done that, right click on the section control and view it's properties.  Check the "Show Border?" option and enter this into the description box:
<iframe id="frame1" name="frame" width="100%" height="600" src="http://www.google.com"></iframe>
It should now look like this: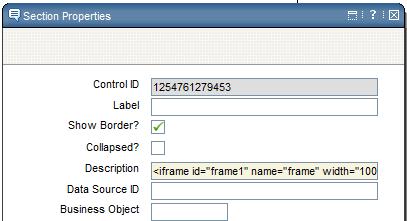 As soon as you close the dialog box, the iframe should now show and google.com will be the page displayed.  Save your changes and now go to the Work Order Tracking application and click on the new tab to see  your custom iframe control in action.